Wow, it's been a while. When I last left off, I was living in Boerne and my wife had just been diagnosed with preeclampsia while carrying twins. That was nearly three and a half years ago. Much has happened, and I'm really not sure how to best catch everyone up, so I'll just go through the major events in chronological order. Grab some popcorn, pop the cork on some wine, and prepare for an ADVENTURE!
---
Lynette's pregnancy continued to be complicated and eventually we went in for a regular visit and learned that the kids were, in fact, being born the next day. So, Ladies and gentlemen, I
PROUDLY
present to you all Kyla Rose Baker (3 pounds 14 ounces)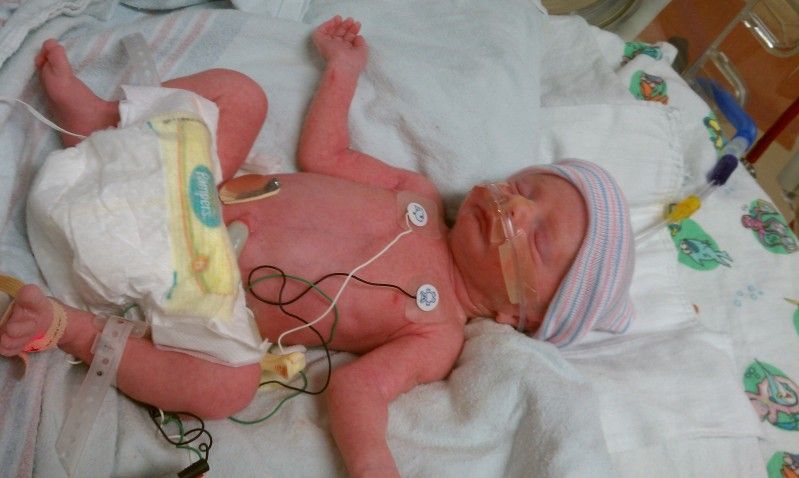 and Langston Wesley Baker (3 pounds 3 ounces).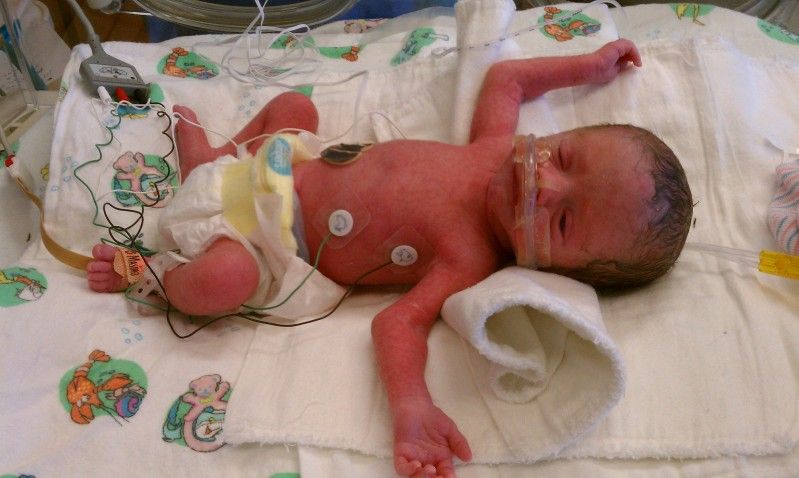 They were small, born at 32 weeks and 3 days, but healthy. We spent the next
two months
as NICU parents. Lynette was there in the day and I got a precious one hour with them each evening, after I got out of work and before the NICU shift change (when they kicked everyone out). It was doubly tough, because we were still living in Boerne, so the hospital was about 45 mins from the apartment. Fortunately, all things end--even NICU stays. Before I knew it, we were on our way home.
(This was, seriously, one of the happiest and most terrifying days of my life)
We soon realized that our apartment was too small and that being so far away from our families was going to be a problem. So we packed up our bags and moved to a trailer that my brother-in-law had just remodled and was kind enough to rent to us at a really great rate. The trailer was somewhat smaller than our apartment, but had a huge yard and was located right next to the San Antonio river, near Mission Espada. San Antonio was in the midst of adding a green-belt linear park system that ended, almost literally, at our door step. It was pretty cool. Meanwhile, the babies kept getting bigger and bigger.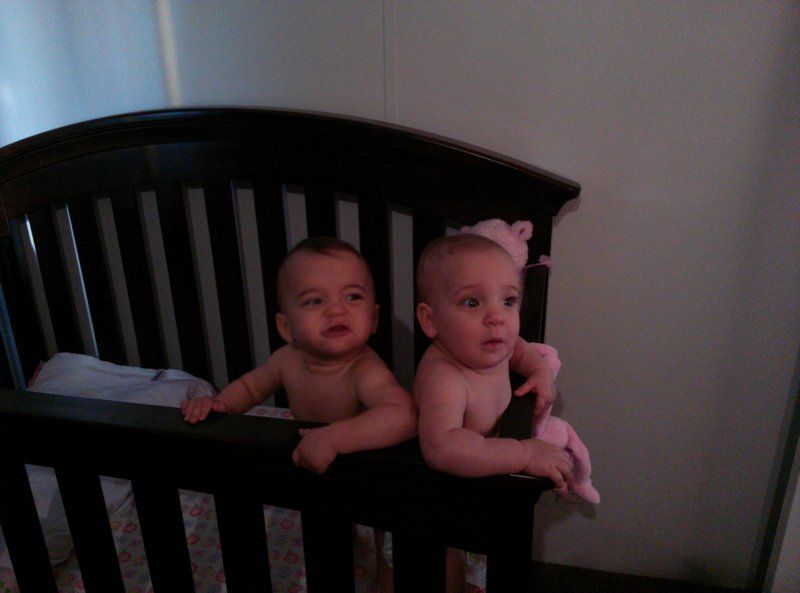 They had separate cribs, but liked to hang out together sometimes so that they could team up on us. The look on Langston's face came to be know as his "Stink Face". He made it all the time.
I was getting very little sleep, but at some point I started to get very slightly
more
sleep, which made me feel like I could take on a project (because I guess 6-month old twins seemed easy at that point?) so I decided, "Hey, there's a big yard here! Lets put in a garden!" I think I spent about $100 on rare/uncommon heirloom organic seeds...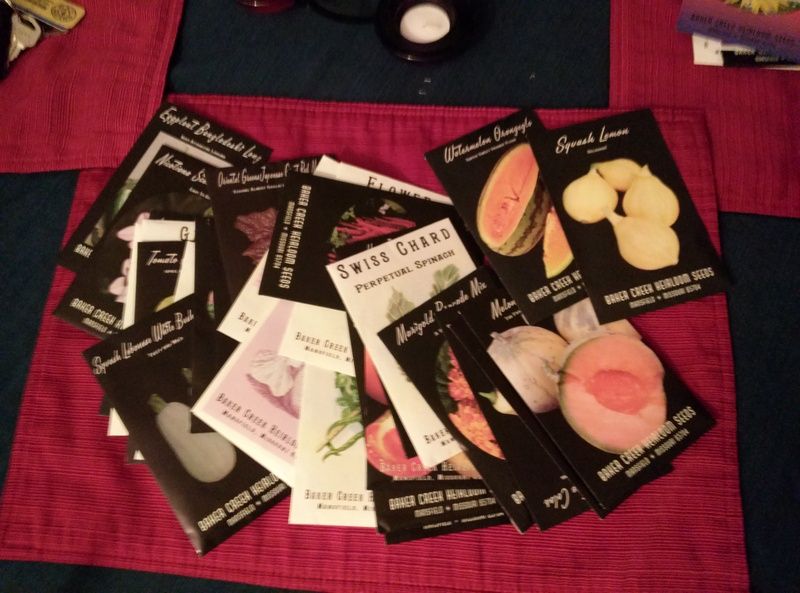 And then I proceeded to try and work the land, by hand, to install beds for the seeds. It was really slow going (the soil was hard packed silt/clay with lots of rock) and so I, cleverly, ALSO decided to start composting coffee grounds and shredded office paper so that I'd have dirt that was easier to work with. I planted seeds into a starter kit, and the clock started ticking.
(I may have been a bit overconfident in my garden-time estimates)
I also decided to plant some trees, since we didn't really have any. We got a pair of Methly Plum trees, a Ponderosa Lemon, a Fig (I don't recall the variety), a lime (it was $5 and just labelled 'Lime'), and two different types of grape vine. We bough some asparagus and flowers, but didn't ever find time to plant them. By spring, things were actually going pretty well. I was adding new garden beds every weekend or so, and my crops were actually growing. I even began to ponder getting chickens.
But, as I noted earlier, all good things must end. On Memorial Day weekend, 2013, Kyla had a kept me up all night (I don't remember why she was fussy) so I welcomed the soothing sound of rain when storms rolled in at some point early in the morning. I was awakened around 9am by a phone call alerting us that the neighborhood was beginning to flood.
The neighborhood had flooded in the past, but it had never reached the property where we were staying, and even at the worst, it had never been bad enough to damage any of the houses. We slowly got dressed and prepared to bunker down with some netflix. By 9:30, however, the neighbor's porch floated by and we realized that we were in trouble.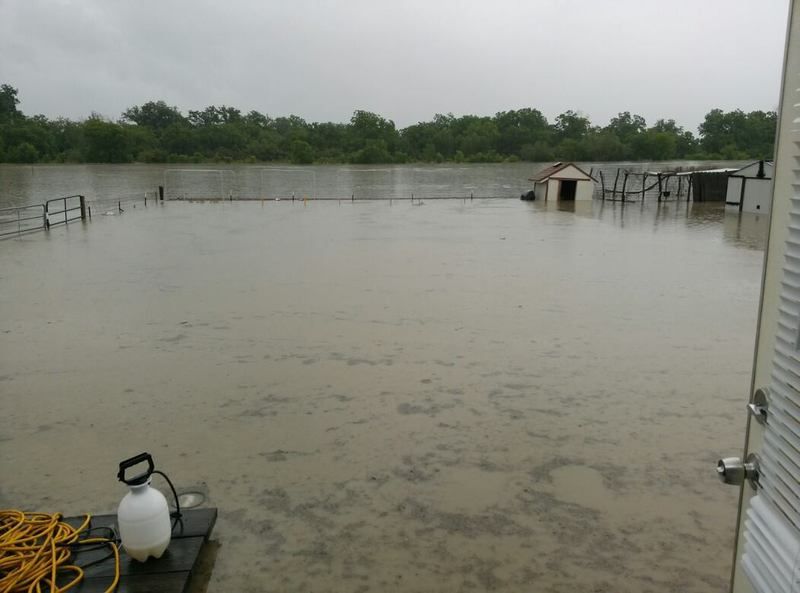 (If you look at the fence line, you can see the tops of my garden trellises)
The flood later set a record for the San Antonio river. Ours was the house that was least flooded, but that was little consolation. We lost our car and even my damn pickup truck, along with much of our belongings.
Fortunately, my brother and his wife had just moved into their new home (seriously, JUST moved in. I'm pretty sure they'd been there only a week or so) and had bought more space than they needed. They gave us the top floor and lent a hand with the kids, while we salvaged what we could.
It was actually a rather pleasant blended family experience, all things considered. Tommy and Roxi were incredibly gracious hosts and the kids didn't seem to have noticed the change. Well, almost didn't notice it. We visited the San Antonio Zoo and noticed that they had a particular interest in boating...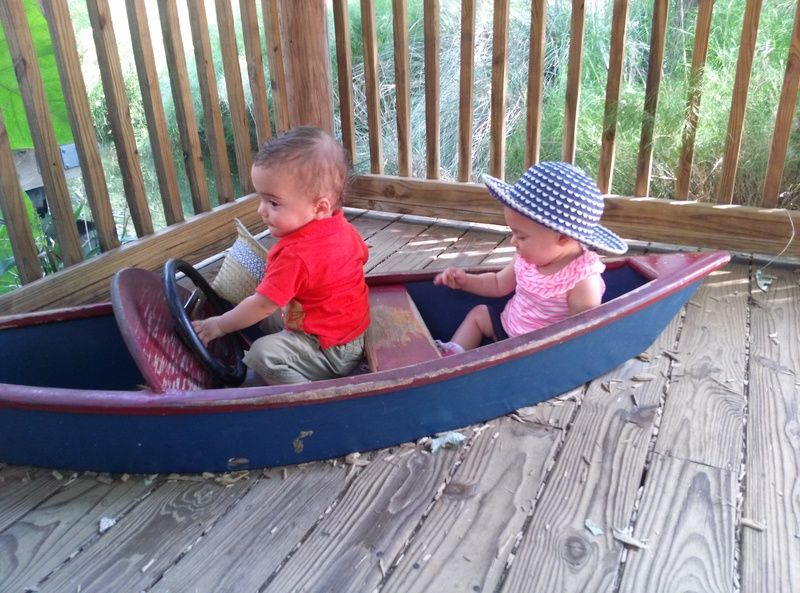 We immediately began the process of hunting for a new home for ourselves. Shortly after the kids' first birthday, we settled on a nice two-story home, with a large back yard, good schools, and that was not on any sort of flood plain. There was a neighborhood pool and nature trail, low HOA dues, and our neighbors all seemed to be good people. It was perfect, except for the total lack of trees on the property. Every other house in the subdivision had mature oak trees; we had wide open spaces. We made the most of it, however.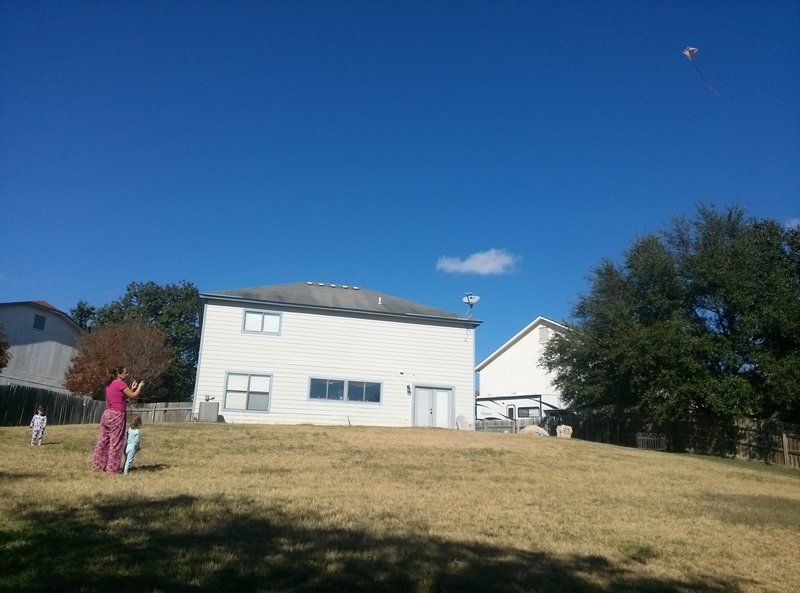 (Probably the only suburban backyard kite flying action in the entire city)
As the years passed, the kids got bigger, funnier, and more incredibly awesome. They are three years old now and have recently started daycare (where they pretty much spend every day being the best kids in the entire place). Lynette is back at work, at a private school here in San Antonio, and I am still hard at work for the Northside Independent School District. I put in a garden this year, which managed to do pretty well, and have begun finding time for projects again.
So stay tuned everyone. I am mid-way through this year's Halloween costumes (expect a post about that sewing project shortly) and have plenty of dad-related back-logged content to write about. Expect a blog that is pretty much the same as I had back in 2012, but with these beautiful coauthors/editors to help keep me on task.
But for now, I am off to bed; it is nearly midnight and I am in serious danger of turning into a pumpkin!
Until next time,
-Kyle